Dr. Harsh Vardhan chaired meeting with corporates to discuss voluntary crowd-funding for treatment of patients suffering from Rare Diseases, and for TB-Free Corporate Spaces

Fulfil Prime Minister's vision of 'TB-Free India' 5 years ahead of the world

Expresses his deep desire to eliminate TB from the country, in the same expeditious manner as Polio
Union Minister of Health and Family Welfare today chaired a high-level virtual meeting with Associations representing Business Corporate entities and select PSUs to discuss voluntary crowd-funding for treatment and care of patients suffering from Rare Diseases, and for TB Free Corporate spaces, here today.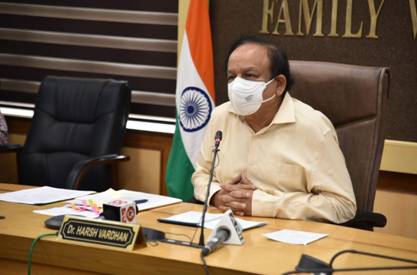 At the outset, the Union Health Minister noted that the purpose of the meeting was to discuss the way forward for wider partnership with and participation of private corporate sector for noble causes that have hitherto remained unexplored. Extending his gratitude to the Corporate Sector and various PSUs for their magnanimous support to help the country tide over the second wave of the COVID-19 pandemic, he underscored the need for engagement of the private sector in filling the gap that presently exists in extending quality healthcare largely generated by resource constraint and competing health priorities, to those suffering from rare diseases in the country. He appealed to the Corporate Associations and PSUs contribute generously to the cause of treatment of patients with Rare Diseases under CSR initiatives.
Dr Harsh Vardhan said, "Globally, 8% of the population suffers from rare diseases. 75% of the survivors are children which makes parents run from pillar to post for their treatment, exhausting their resources and emotionally draining themselves in the process."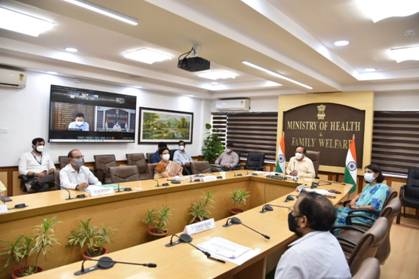 Dr. Harsh Vardhan also enumerated the different steps taken by the Government in facilitating creation of an environment which promotes research and development of diagnostic and therapeutic interventions for rare diseases within the country: "Rare disease Committees have been constituted, nodal officers appointed and Rare Disease Fund Accounts have also been created at notified eight Centres of Excellence (COEs). Nidan Kendras in UMMID programme have been opened for genetic screening. A Research consortium under DHR with ICMR, DBT,CSIR for low-cost therapeutics for rare diseases and repurposing of drugs has been created to enable their study." He further added that the CSIR runs the largest free exome (DNA)-sequencing program for rare disease diagnosis (Guardian scheme), while CDSCO has made provisions for fast-track processing of applications for new drugs for rare diseases under New Drugs and Clinical Trials Rules, 2019 for drug trials & experimental therapies and have exempted application fee of potential drug candidates. The Ministry of Finance is similarly working to reduce custom duties on import of specific drugs used in treatment.
The Union Health Minister also mentioned about the National Digital Portal for Crowd Funding created by MoHFW that will enable donors from various sections of the society i.e. individuals, and corporate donors to donate funds, to contribute resourses through crowd funding to support treatment and care of patients suffering from rare diseases.