Ministry of Culture and Ministry of Ports, Shipping and Waterways sign an MoU for Cooperation in Development of National Maritime Heritage Complex(NMHC) at Lothal, Gujarat

NMHC to be developed as world class historical site and an international tourist destination showcasing India's rich maritime heritage



The Ministry of Culture (MoC) and Ministry of Ports, Shipping and Waterways (MoPSW) signed a Memorandum of Understanding (MoU) for 'Cooperation in Development of National Maritime Heritage Complex (NMHC) at Lothal, Gujarat' in New Delhi today. Union Minister of State (I/C) for Culture, Prahlad Singh Patel and Union Minister of State (I/C) for Ports, Shipping and Waterways, Mansukh Mandaviya were present during the MoU signing ceremony.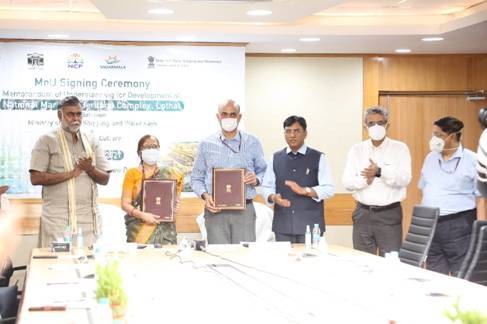 .
Speaking about the huge treasure of cultural heritage in India, Prahlad Singh Patel said that we need to put this treasure together at one place in order to bring out and convey the greatness of our cultural heritage. This MoU and the museum will play a big role in highlighting the cultural heritage of the country both domestically as well as to the world. The Maritime Museum at Lothal is only a beginning. The Culture Ministry will extend all support as a knowledge partner to other similar projects at other locations, he added.
Patel said that recent excavations at different locations are bringing new historical facts to light which could become the basis of re-writing history. These findings will bring out the glory of our ancient culture and we must not leave any stone unturned to pursue such research .
Speaking on the occasion, Mansukh Mandaviya said that NMHC is to be developed as a first of its kind in the country dedicated to the legacy of Maritime Heritage of India, to showcase India's rich and diverse maritime glory. He said that the signing of MoU and cooperation with the Ministry of Culture would facilitate to exhibit both the robust maritime history and vibrant coastal tradition of our country in one place and would uplift the image of India's Maritime Heritage in the international forum
National Maritime Heritage Complex, a world-class facility is to be developed in the vicinity of the ASI site of Lothal, located about 80 kms away from Ahmedabad, Gujarat. NMHC would be developed as an international tourist destination, where the maritime heritage of India from ancient to modern times would be showcased and an edutainment approach using the latest technology would be adopted to spread awareness about India's maritime heritage.
For developing the project, the land transfer formalities have been completed and all land related clearances including environment clearance are in place.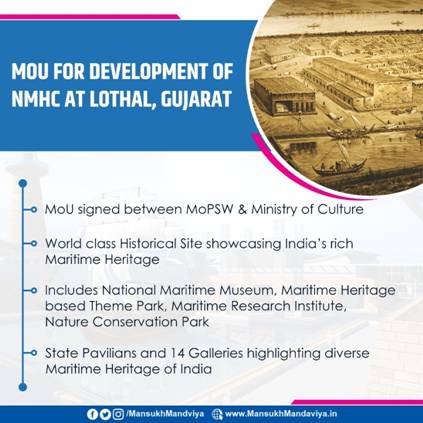 NMHC would be developed in an area of about 400 acres with various unique structures such as National Maritime Heritage Museum, Light House Museum, Heritage Theme Park, Museum Themed Hotels & Maritime themed eco-resorts, Maritime Institute etc. which would be developed in a phased manner.
The unique feature of NMHC is the recreation of ancient Lothal city, which is one of the prominent cities of the ancient Indus valley civilization dating to 2400 BC. Apart from that, the evolution of India's Maritime Heritage during various eras would be exhibited through various galleries. NMHC would have pavilion for each coastal states and union territories to showcase the artefacts/maritime heritage of the respective states and union territories.
Various theme parks would be developed at NMHC such as Maritime & Naval Theme Park, Monuments Park, Climate Change Theme Park, Adventure & Amusement Theme Park through public-private partnership which would provide a complete tourist destiny experience to the visitors.
MoC will provide required support for showcasing the maritime heritage of India at NMHC in the form of gallery contents, sharing relevant documents, books, artefacts, electronic media, articles, original artefacts/ replicas etc. During the construction, operation, sustenance, maintenance and growth of NMHC, MoC will share its technical understanding on design, lighting and digital technology. Some other important activities that MoC will take place for the development of NMHC are –
MoC shall closely work with MoPSW for making old Lothal site and NMHC as a single tourist destination.

MoC will co-locate the Lothal Museum with the NMHC complex and will also allow the development of archaeological site of Lothal by NMHC, if required.

MoC will also provide all needed support from their autonomous/affiliate bodies, viz Archaeological Survey of India (ASI), Indira Gandhi National Centre for Arts (IGNCA), all National Museums, Anthropological Survey of India, National Archives of India (NAI), National Council of Science Museum (NCSM), National Research Laboratory for Conservation of Cultural Property (NRLC), etc. for expeditious documentation, collection and consolidation of artefacts/data, technical support and necessary transfer in original/replica as and when needed.

MoC will facilitate in the fundraising for NMHC through National Culture Fund (NCF). The services of National Culture Fund (NCF) shall be utilized to receive funds by way of grant, donation, CSR and foreign contribution.

Release of Rs 15 crore (through NCF) in equal installments in three years (@ Rs.5 crore each year) towards setting up NMHC by MoC at Lothal in Gujarat.

Artefacts from Lothal and Dholavira to be allowed for display at NMHC complex.

MoC and its subordinate/associated offices will collaborate for workshops, collaborative temporary/travelling exhibitions, and research and will help in showcasing maritime heritage.

MoC will also provide needed collaboration to NMHC for all maritime heritage subjects under its project 'Mausam'.